Frigi-Temp
You might not find a commercial heating and air conditioning company to be the most exciting subject for a company profile. But once you meet Jessie Pendergrass from
Frigi-Temp
, you can't help but but set aside any predetermined idea you might have about them.
Based in Youngsville, North Carolina - Frigi-Temp has been servicing the Triangle for the last 17 years. Their company reaches north as far as Virginia down to Fuquay-Varina, from Rocky Mount to Efland, which encases, Raleigh, Durham, Cary, Apex, and Chapel Hill.
The are also an ice machine company. When we caught up with them outside of a TGI Fridays, one of their technicians was in the midst of repairs. Their customer oriented mentality is a model they are proud of, since most of the their techs are grown to sustain the B2B relationships. Having the same person serving their clients is key as it builds comfort and trust between their organizations.
Frigi-Temp currently operates its service fleet with a new set of Sprinter Cargo Vans. They love having the Mercedes-Benz brand on their vehicles, as it synonymous with quality with a great reputation. They also love the lower cost of ownership as well.
Thank again to Jessie Pendergrass for allowing us to feature Frigi-Temp, and for allowing us to showcase his singing talents. We had a lot of fun working with him and his team.
Durham Central Park
Our latest video feature shows off a truly unique area of the Triangle.
Durham Central Park
, located on the north end of downtown Durham, has been building a stronger community on its 5-acre lot since its inception. The city owns the land, but the park is operated by Durham Central Park Inc. 
Erin Kauffman is the Executive Director of the park and took a ride with us to tell us more about the benefits to having such a space in the heart of the community. She tells us one of the main focuses of the park is to provide space for community. They provide free programming through the year, such as the Farmers Market, concerts, and a food truck rodeo. But people don't have to wait until an event is happening to enjoy it. There is a playground for kids and a skate park which is almost always being utilized.
Erin says they want the park to be a welcoming and open space that everyone can use.
If you don't live in Durham, the park is easy to access from Raleigh, Chapel Hill, Cary, Apex, and Hillsborough as well.
The car in the video is a 2018 Canyon Beige Mercedes-Benz GLA 250. The music was provided by local artists JPhono1. 
CQC Home
May 29, 2017
Mercedes-Benz of Durham is proud to present another local company in our new video series featuring interesting businesses around the Triangle.
CQC Home is design and remodeling firm with a staff of about 20 people. They've been around just shy of a decade, and are turning out some eye popping work.
Ken Combs, the owner and CEO, was proud to show his latest home remodel. We talk a little about how he got where he is today, and where he plans to go in the future. We test drove a beautiful 2017 AMG® GLC 43 while cruising the neighborhood.
CQC Home uses Mercedes-Benz Sprinter Vans as their fleet vehicles, and they love it's everyday functionality and reliability. As Ken told us, for the price, it doesn't get much better. Being able to stand up in the vans while getting work done is key, and knowing the van is safe and well designed just makes the daily tasks for his employees that much easier.
Team Building - One Fake Tattoo at a Time
One consistent term you hear when you ask an employee of a Hendrick Automotive dealership is "culture." Mr. Hendrick preaches it from the top down. Every GM across the country holds the responsibility of instilling the values of the company within his/her support staff.
At Mercedes-Benz of Durham, culture takes on a lot of different faces. Some days, culture means sitting down and talking over hot topics with team members, other days it means picking up the slack when someone is having a bad day, but on a few occasions, culture means giving your service manager a hard time.
Sean Gerringer, the service manager at Mercedes-Benz of Durham, is known for rattling the cages of his guys. You can always find him giving his team a hard time, which is something we all find charming about him (once you get used to it of course). So, naturally, when someone finds something to pick on Sean about, the gloves immediately come off.
Enter, GM, Josh Vaughn - All it took was Sean leaning back in his chair during a morning meeting. Josh began laughing as he noticed a barbed wire tattoo on Sean's bicep. The story came out that the ink was added to his arm in the 90's, and maybe isn't the greatest decision Sean has ever made. Not that he isn't proud of it, but perhaps isn't his choice for topic-of-the-year.
So naturally, Josh shows up shortly after with a stack of fake tattoos. The team rallied and mimicked Sean's youthful indiscretion. And like a champ, Sean loved the joke. What a great photo opportunity! You can say what you want, but a true sign of a good leader is the willingness of his/her teammates to partake in a public ribbing. We all had a great laugh, and this memory to share.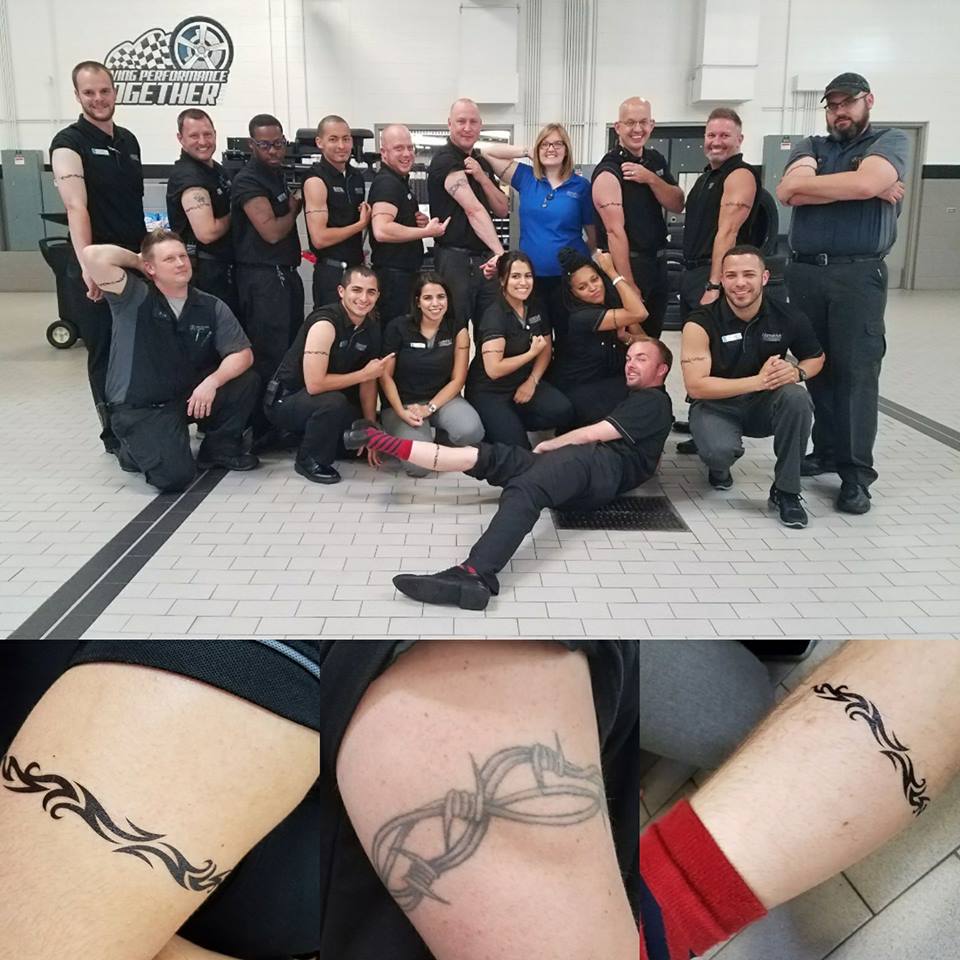 Queen of Wines
May 12, 2017
We are starting a new initiative at Mercedes-Benz of Durham - to introduce our social audience to the many wonderful business in the community. We consider this our way of reaching out and getting involved while we strive to make a name for ourselves with our neighbors.
Our first video features a start up business in Durham, North Carolina called, Queen of Wines. The owner, Laure Levesque is of French descent and had the idea of bringing her culture, in the form of wine, to the United States.
Since Queen of Wines is considered a distributor, they don't sell wine directly to the public. However, they do work with retailers by offering educational classes about their wines, which is just the touch that separates them from their competitors.
You might also notice on any wine that comes from their warehouse, a patented back label which describes just about everything you need to know about their wine. Where it came from, what the best temperature to store it is, what it pairs best with, etc... Something a lot of novice wine consumers might appreciate.
Look for more videos about local businesses on our Facebook page, www.facebook.com/mercedesbenzofdurham/
You can learn more about Queen of Wines at www.QueenofWines.com
Employee Bio: Tracey Elkins
Mercedes-Benz of Durham Warranty Administrator, Tracey Elkins, has pretty much only known the car business. Aside from a brief hiatus to work in a daycare, Tracey has set aside her paralegal degree to pursue success driving the behind-the-scenes workload for multiple dealerships in the Triangle.
Tracey grew up in Chapel Hill where she attended East Chapel Hill High School.
Interestingly, a teacup pig named Titan consumes most of Tracey's free time. He loves to cuddle and to pester her.


Tracey recently bought land north of Raleigh. Her weekends often consist of cleaning up brush and preparing to build a home with her fiance.
Like many people who work for Hendrick Automotive, Tracey likes that the daily culture involves growing from within and making inclusiveness is a priority. She's met Mr. Hendrick several times and appreciates that he is so personable with everybody. As she so eloquently put, "go team Hendrick!"
Once you get to know Tracey, you'll find someone with a true zest for life. A cancer survivor and cheerleader for everyone, she is frequently referred to as the glue that holds Mercedes-Benz of Durham together.
Employee Bio: Marcus Riddick
April 18, 2017
Introducing Mercedes-Benz of Durham Product Specialist, Marcus Riddick.
Marcus came to Mercedes-Benz after nine years at Ace Hardware. He really enjoyed the family-like atmosphere with his Ace family, but was ready for a new challenge. Marcus mentions how the Hendrick Automotive family has embraced him and how he has thrived in this culture.
In his spare time, Marcus loves to play basketball and tinker with his new Jeep.
Come meet Marcus and the rest of the Mercedes-Benz of Durham team! We are located at the Southpoint Automall, just off Fayetteville Road in Durham, North Carolina.
Employee Bio: Katie Fletcher
When you purchase a new or pre-owned Mercedes-Benz, there is always something to learn. Automotive technology moves at a rapid pace and many of those changes can be difficult to figure out without some guidance. Enter Product Concierge, Katie Fletcher.
Katie's primary focus at Mercedes-Benz of Durham is to teach our clients about their newly purchased vehicles. To some that may not be a big deal, but to others, the chance to sit down with a professional is an opportunity to unlock all of the potential behind that German engineering. Whether they need to learn about the blind spot assist, the park assist, or just how to use the air conditioner, Katie is there for the long haul. Having the opportunity to work with clients after the "stressful part" of the car buying process over is a perk for Katie. She admits that seeing clients light up when she shows them something unexpected is fun for her, too.
Katie moved to the East Coast when she was twenty-one. She loves spending time with her seven-year-old border collie, lab mix dog, whom she admits is the "sassiest dog (she's) ever met in her life." Katie also enjoys kayaking, canoeing, hiking, and cooking. However, she freely admits she is not nearly as good of a cook as Josh Vaughn, the General Manager at Mercedes-Benz of Durham.
 

Hendrick Automotive strives to build a team atmosphere, and Katie fits perfectly into the role of a great teammate. She reciprocates that support with kind words about everyone else around her. Which is what made Katie the perfect candidate for the April, Best of the Best Award. Every month, Mercedes-Benz of Durham selects one individual who exemplifies excellence and awards them with a cash bonus.
 
Katie's favorite car is the C 63 S Coupe. She loves the speed and size and admits it's just a sporty and fun car. We can see her driving one.
Eastern Carolina's MDA Lockup
April 4, 2017
Mercedes-Benz of Durham teamed up with the Eastern Carolina's MDA on March 29th to help raise money for local Durham County families.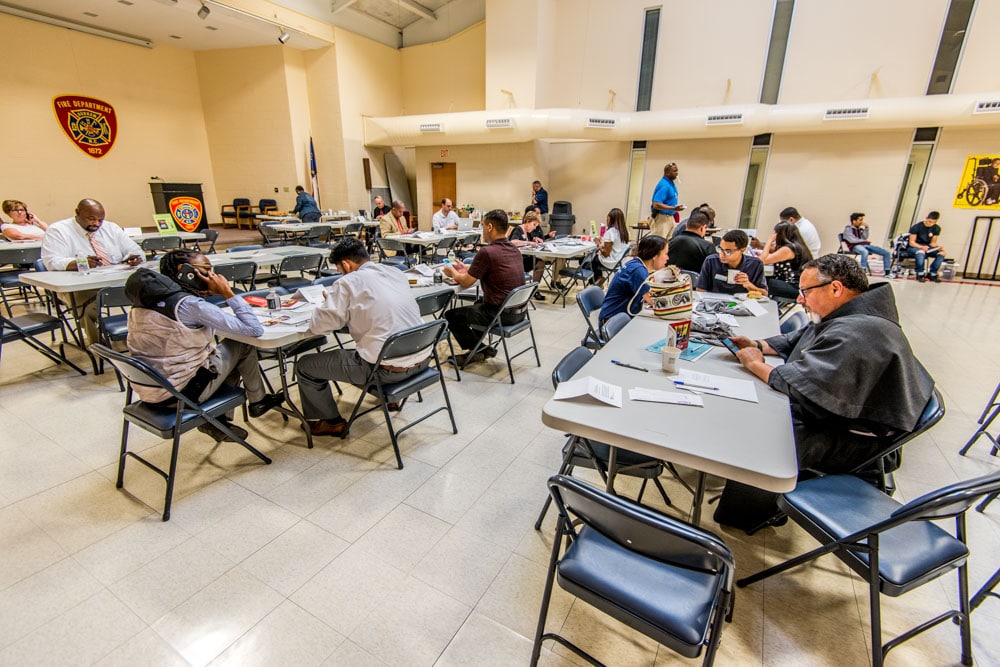 Sprinter Vans were provided for the event which were used to pick-up and drop-off community leaders who volunteered their time to raise funds to fight Muscular Dystrophy and other debilitating diseases.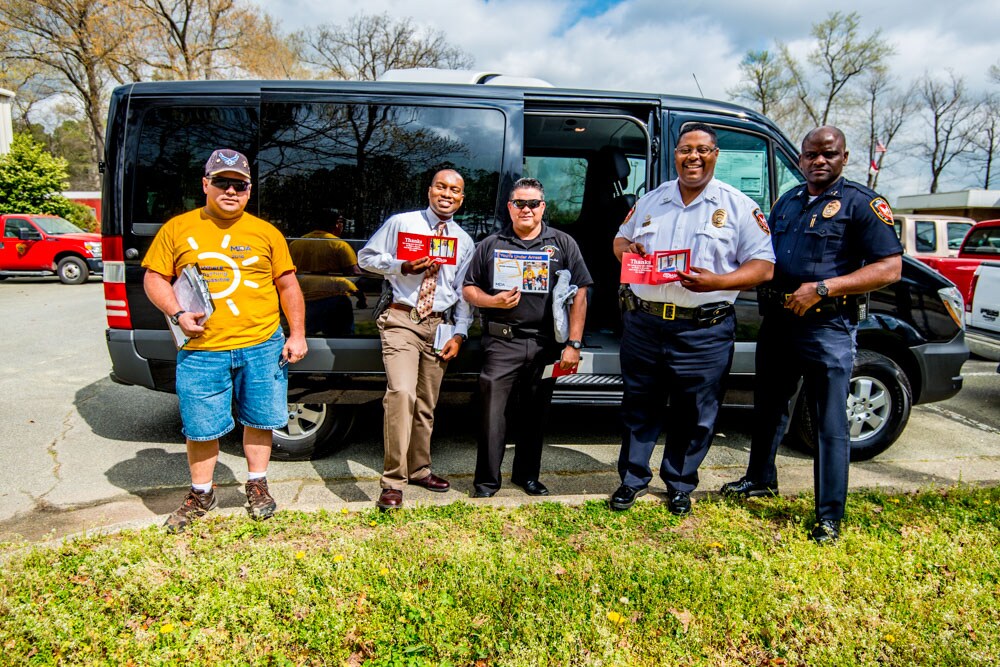 Those who participated in the lockup were asked to make "bail" before being released from their "cell" at the Durham Fire Department on E. Club Rd. As they were escorted into the fire station, they were met by a judge who proclaimed they were being "charged with having a big heart."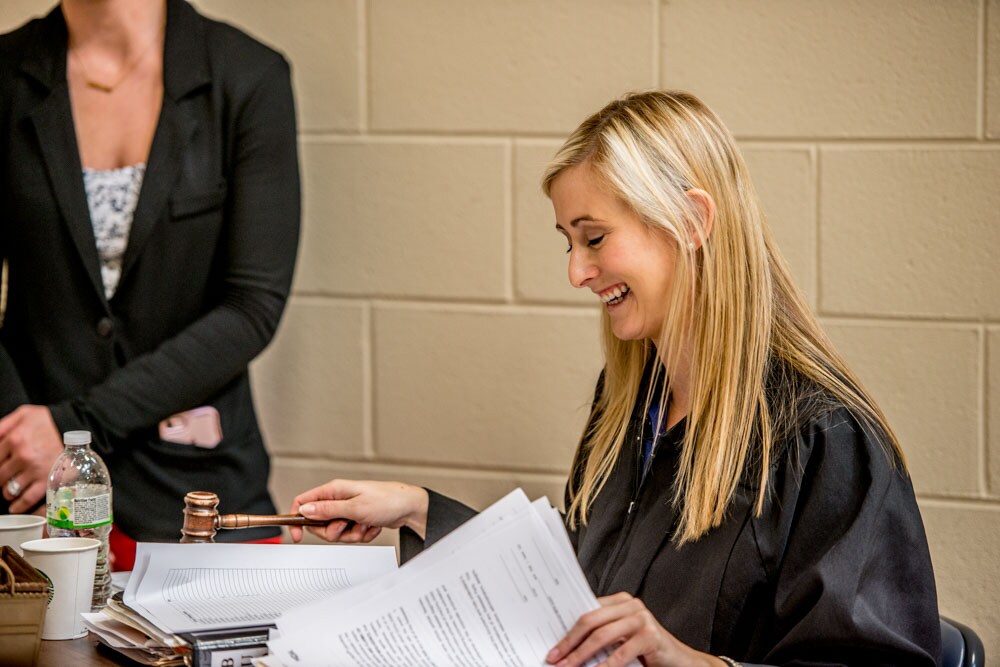 From there, each fundraiser got their picture taken behind fake bars with a sign of their choosing. Refreshments were provided while they worked the phones to raise enough money to return to their daily routine.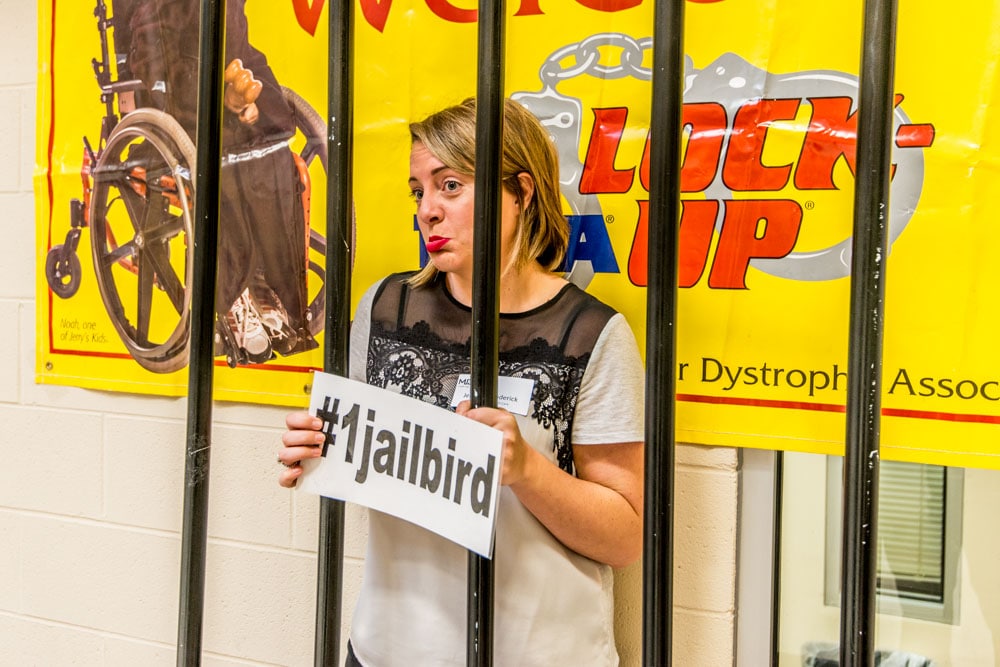 The effort collected over $54,000, which was shy of their goal, but still an incredible accomplishment.
The money raised by the MDA is set to be used to accomplish the following goals by 2020:
CURE: Double their research investment on drug development and clinical trials to bring more treatments and cures to families.
CARE: Provide care and support for 50,000 more families - a 50 percent increase over the number of families registered with MDA today.
CHAMPION: Fund 20,000 kids at MDA Summer Camp at no cost to families.
Last year alone, the MDA provided one-on-one help to 10,000 individuals and more than 3,000 gently used assistive devices to help kids and adults maintain mobility and independence.
Please visit www.MDA.org for more information.
Durham Bulls Photo Shoot
March 29, 2017
In a perk to their partnership, Mercedes-Benz of Durham was allowed a photo shoot on the home field of the Durham Bulls. We have shared some of the highlights from that photo shoot below. 
When trying to reach the areas of Durham, Chapel Hill, and Hillsborough, finding interesting marketing material is a must. The planning and coordination that goes into something like this is in itself an interesting story. The photo shoot postponed several times because North Carolina has different ideas about the definition of "spring." 
The primary concern for the field crew is keeping the grass pristine. Which, when you bring a motor vehicle around, that mission can be easily compromised. Cold weather and rain are enemies to any baseball stadium grounds-keeping crew. The late cold weather snap in early march of 2017, isn't abnormal, however, it was cumbersome. 
Once we finally arrived after the all-clear, the Durham Bulls crew guided us around several obstacles just to get on to the warning track. Our Porter who was along the ride, wasn't properly explained what his job would entail this day. His eyes light up with excitement when he was told to continue forward.
Once on the field, we drove over some strategically placed boards to avoid damaging the grass. From there the rest was easy. A beautiful Mercedes-Benz C 300 Coupe parked between first and second base on one of the most scenic places in North Carolina.
We hope you enjoy the photos.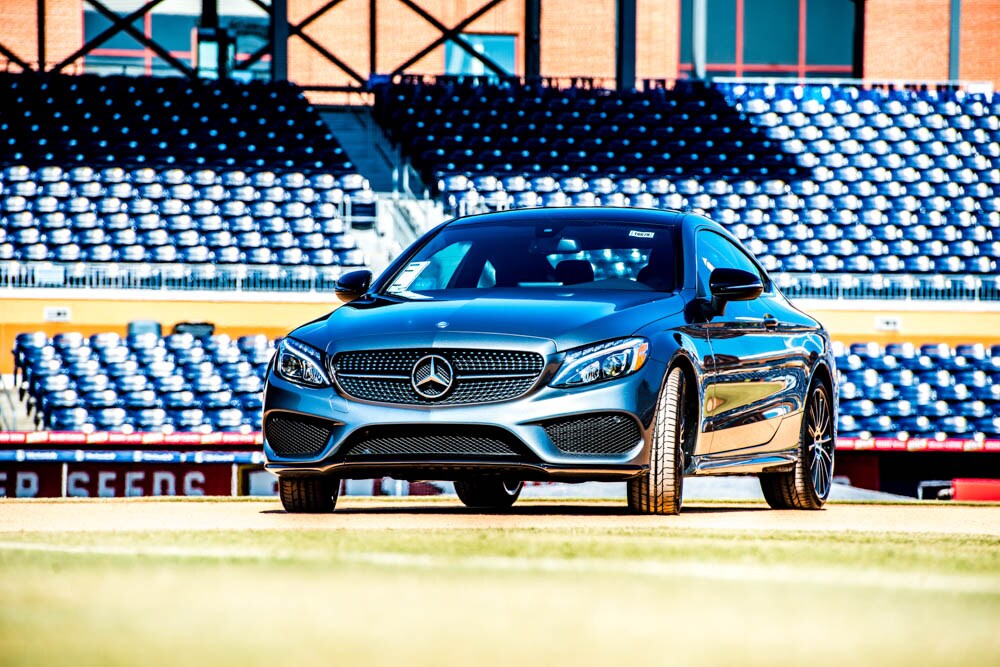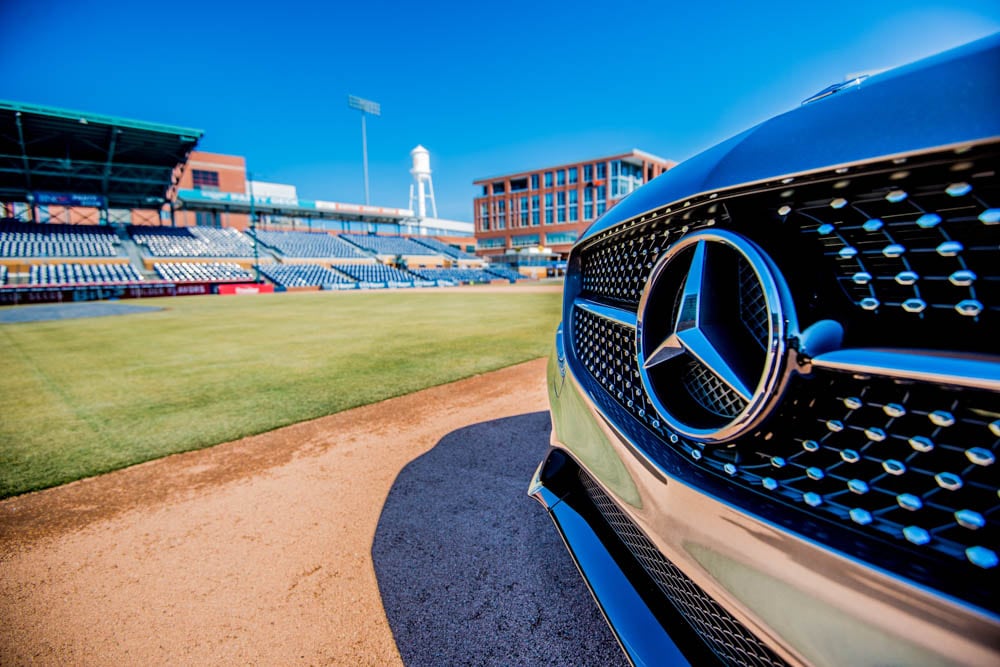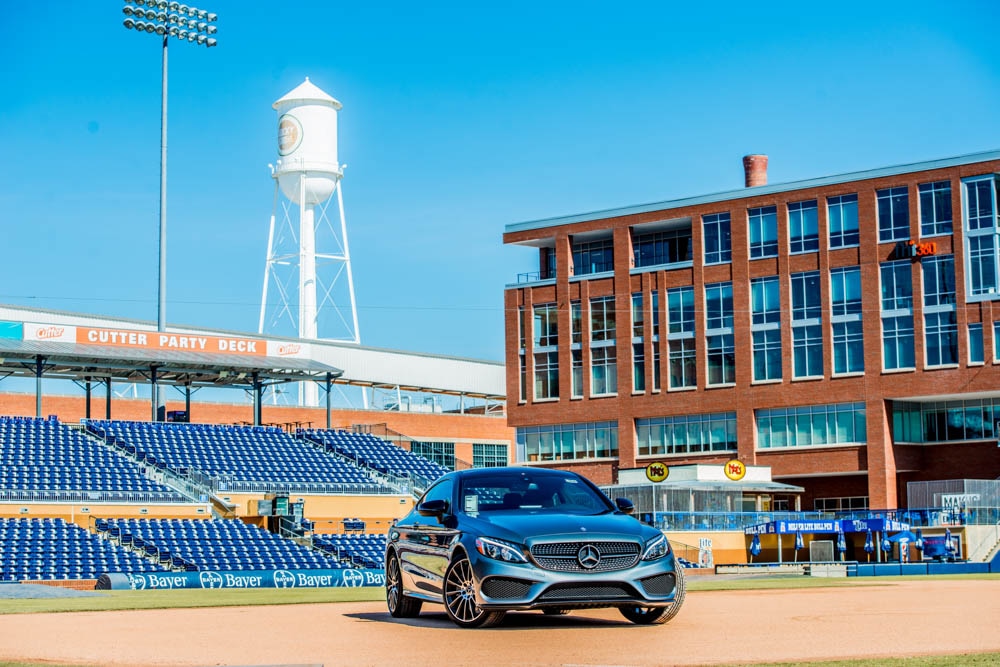 Mr. Hendrick Visits Mercedes-Benz of Durham
March 15, 2017
On Tuesday, March 7th, Mr. Hendrick was in Durham for the grand opening of the Hendrick Chevy, GMC, Cadillac dealership in the Southpoint Automall.
After the grand opening, Mr. Hendrick made his way across the street to Mercedes-Benz of Durham.
Every time he visits, the dealership gets a huge moral boost. He always take the time to visit with as many people who want to talk to him. Something he preaches through his servant leadership training with the leaders of the Hendrick Automotive Group.
Mercedes-Benz of Durham is a new and pre-owned Mercedes-Benz dealership located in the Southpoint Automall near Raleigh, Durham, Chapel Hill, Morrisville, Hillsborough, and Cary, NC.
Employee Bio: Kyle Suon, Service Technician
March 14, 2017
Mercedes-Benz of Durham introduces Kyle Suon, Service Technician.
Kyle moved to Durham from Roanoke Virginia due to medical reasons for his daughter. His wife found a job first and then he landed at Mercedes-Benz of Durham.
Before Kyle got into cars, he was about 6-months from joining the military. He learned he has a real passion for the automotive industry and especially enjoys cars the faster they go.
Kyle loves the E63 Wagon, but admits it isn't his favorite car. He is currently in love with the 300SL. Who can blame him?
When he isn't at work, Kyle loves tinkering with computers, playing video games and being outside with his family.
Mercedes-Benz of Durham is located at the Southpoint Automall in Durham, NC. We service the Raleigh, Durham, Chapel Hill, Morrisville, and Hillsborough areas. Our address is 110 Kentington Drive, Durham, NC 27713.