| | |
| --- | --- |
| | |
|  Mercedes-Benz C-Class | Audi A4 |
Comparing the 2020 Mercedes-Benz C-Class to the 2019 Audi A4
With the variety that can be found throughout the range of options for the 2020 Mercedes-Benz C-Class, we are sure that you will be able to find one that has all the features you are looking for. Continuing to uphold the legacy that has been set by Mercedes-Benz, the 2020 C-Class models offer a beautiful styling and an aggressive performance.
The 2019 Audi A4 is a model that many drivers might also be considering if they are looking at the top models in this class. While both options give an exciting performance, we want to help you decide which is the one that you will want in your life.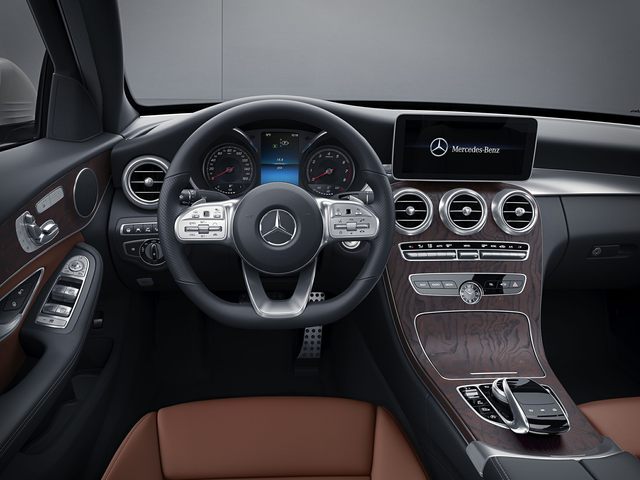 2020 Mercedes-Benz C-Class vs 2019 Audi A4
The 2020 Mercedes-Benz C-Class starts at $41,400 and the Audi A4 starts at $39,200.
Both models offer a sedan and coupe option while only the Mercedes-Benz C-Class has a convertible.
The Audi A4 has two engine options, neither of which offer as much power as the engine that is equipped on the 2020 Mercedes-Benz C-Class.
You'll get up to 12.6 cubic feet of cargo space in the Mercedes-Benz C-Class while the Audi A4 has up to 13 cubic feet.
The base engine of the Audi A4 will give you more MPG than the Mercedes-Benz C-Class, but the upgraded engine does not offer the same efficiency level.
You can choose between all-wheel drive and rear-wheel drive with the Mercedes-Benz C-Class, but the Audi A4 offers front-wheel drive and all-wheel drive.
There is a nine-speed automatic transmission on the Mercedes-Benz C-Class models and only a seven-speed transmission on the Audi A4.
The Mercedes-Benz C-Class sedan is shorter than the Audi A4 is, making it more easily maneuvered around cities and through parking lots.
Both models offer spacious seating with enough legroom to help everyone stay comfortable.
There are a variety of safety and driver assistance features throughout the range of trims of both models.