| | |
| --- | --- |
| | |
|  Mercedes-Benz SLC  |  Audi TT |
Compare the 2019 Audi TT to the 2019 Mercedes-Benz SLC
There's a segment of the car market where practicality and stoic functionality go right out the window: where sporty interiors don't and won't seat more than two passengers; where trunk space is more of a perk than a given; but, where passion and performance meet. Here is where we find models like the 2019 Mercedes-Benz SLC and the 2019 Audi TT.
There's a time and a place to get a versatile, cargo-friendly vehicle. And, there's a time and a place to grab life with both hands and live it. Roadsters like these two popular models offer luxury comforts, open-air freedom, and heart-pounding exhilaration. Compare the two to see which would fit your lifestyle better.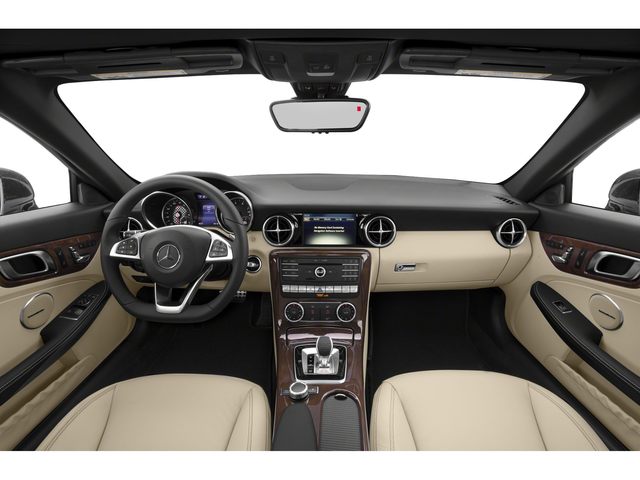 2019 Mercedes-Benz SLC 300 vs 2019 Audi TT Roadster
The new 2019 Mercedes-Benz SLC starts at $48,950 with a long list of standard features.
The 2019 Audi TT Roadster starts at $48,400, and comes comfortably equipped for the price.
Both models are built in the classic style of the roadster: long nose, low roofline, folding roof, powerful character lines.
Both models seat only two passengers--but both also offer luxuriously decorated interiors for all-around comfort.
Standard power for the 2019 Mercedes-Benz SLC 300 comes from a 241-horsepower 2.0-liter turbocharged four-cylinder engine paired to a 9G-TRONIC 9-speed automatic transmission.
The 2019 Mercedes-Benz SLC 300 is available in a rear-wheel drive configuration--xDrive all-wheel drive isn't available.
Acceleration is close between the two cars, and time from zero to sixty is nearly identical.
The 2019 Mercedes-Benz SLC 300 offers innovative convertible technologies, like a glass roof pane and AIRSCARF targeted heating.
The 2019 Audi TT Roadster has an acoustic folding roof, but it doesn't offer the same state-of-the-art features as the Mercedes-Benz SLC.